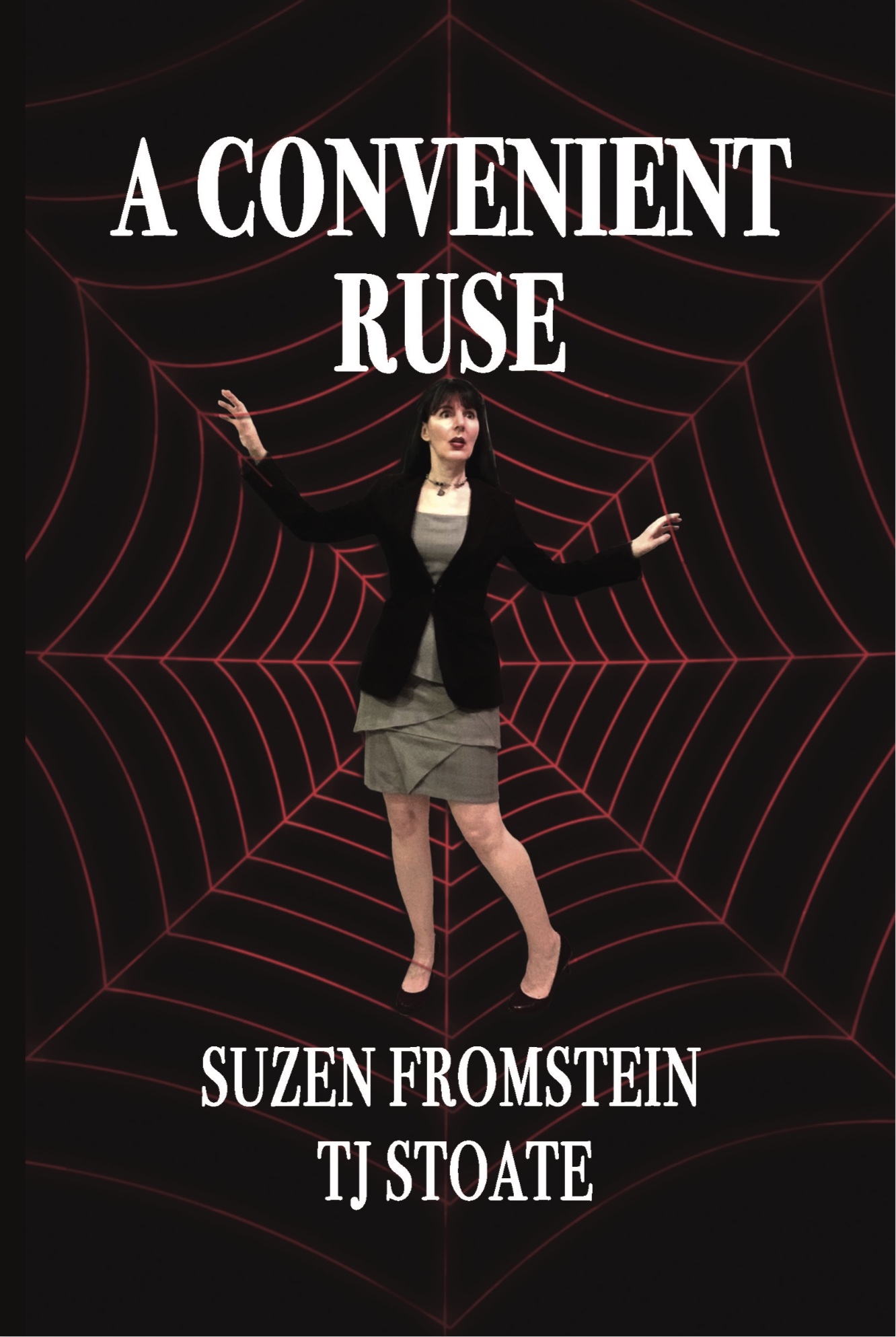 A Convenient Ruse
This murder mystery book follows two idealistic, former financial executives, Canadian, Melodie Marie Beaudoin, and American, Christina Sinclair Sanchez, who lost their upwardly mobile Wall Street careers in the 2008 financial crisis and who reinvent themselves as language consultants. After they move to Washington, Melodie and Christina learn that several of their U.S. Senator clients are buying, selling and shorting stock based on insider information and that there is no law preventing the Senators from doing so. Incensed at the hypocrisy, the amateur detectives decide to create a mass embarrassment and shame campaign to force the Government to change the law. Unfortunately, their undercover work catches the attention of the wrong people. A dangerous and complicated web of interconnected ruses puts everyone involved on a collision course, with deadly consequences.
A CONVENIENT RUSE, a murder mystery novel co-authored with TJ Stoate is available
on Kindle
and through
Smashwords for all other e-platforms
including Kobo, Apple, Sony, B&N etc. There is also a Print on Demand option.
---
Suits and Ladders
A one-of-a-kind corporate survival guide based on the combined wisdom of 102 people with real jobs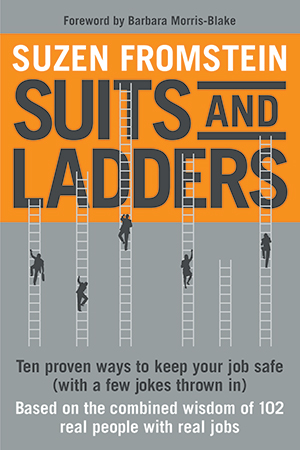 The corporate survival strategies identified in Suits and Ladders: Ten Proven Ways to Keep Your Job Safe (with a few jokes thrown in) are universal and transcend national borders, industries and genders. Whether you work in Canada or France, in financial services or for a NFP, there are ten things you can do right now to stabilize your cash flow, improve your professional outcomes and keep your job safe."
In her foreword, Barbara Morris-Blake, who has interviewed and coached over 10,000 junior-to-senior level people over the past twenty years says, "It's challenging to find a great job. It's equally difficult to hang on to it. Suits and Ladders is the exit interview and the corporate survival coach you wish you had. This one-of-a-kind survival guide explains the strategies 102 real people with real jobs use to stay employed. Following their lead gives you a better chance of survival, or at least, gives you a fighting chance at survival. I highly recommend this important work."
"I wish I had written this book before I crashed and burned my way through three amazing senior corporate positions. Then again, I was much smarter in those days and probably wouldn't have read it. My fervent hope is that you are smarter than I was and that Suits and Ladders: Ten Proven Ways to Keep Your Job Safe helps you do just that," says Suzen Fromstein.
Suits and Ladders is available on Kindle and through Smashwords for all other e-platforms including Kobo, Apple, Sony, B&N etc. There is also a Print on Demand option.
Praise for Suits and Ladders
"Suzen has tapped into what certainly qualifies as one of the most troublesome issues faced by many individuals today: hanging on to a job. She has formulated a survival guide with clearly written pragmatic actionable concepts but implicit in her text is a belief of continued learning with some healthy laughing along the way." Al Emid,
Radio & News Magazine Producer, Financial Journalist and Canadian Best-Selling Co-Author of What I Have Learned So Far and Financial Recovery in a Fragile World (and upcoming release Investing in Frontier Markets: Opportunity, Risk and Role in an Investment Portfolio)
"Every sentence of this book offers sage suggestions for keeping your job safe and yourself protected. From heightening self-awareness to championing a positive attitude and fuelling your workplace passion, Suzen has thrown enough seeds on the soil to grow a whole new crop of quality, secure and forward thinking professionals. The bonus? This volume is transferable to private life and personal relationships, too!" Nina Spencer,
International Keynote Speaker and Canadian Best-Selling Author of Getting Passion Out of Your Profession (and 2014 release of A Time to Creep, A Time to Soar: Lessons learned for work and life from climbing Kilimanjaro)
"The way Fromstein presents her pertinent and significant ideas in Suits and Ladders is exemplary. She combines essential information with real life case studies to create a comprehensive, easily understood guide. Suits and Ladders is a perfect handbook for all employees and an essential manual for University and College grads. Zel Spillman,
A1 Career Coach.com, executive search, Co-op Consultant, Masters Accounting, University of Toronto, Canada
"Suits and Ladders is more than a careers survival narrative. Yes, I said careers because we all know that before we go for the eternal dirt nap, we will experience 2 or more careers. This tome borders on a philosophical experience. Suzen Fromstein has obviously experienced much of what her 102 real people with real jobs have shared with the readers of Suits and Ladders. Otherwise, she could not have written what she did in a way that easily describes very complex situations in the corporate world. The book is now an accessory of my mobile office, as is The Greatest Salesman in the World by Augustine (Og) Mandino. Suits and Ladders and The Greatest Salesman in the World are mentors in my business world." JC - Amazon.com Review on Suits And Ladders (Kindle Edition)
---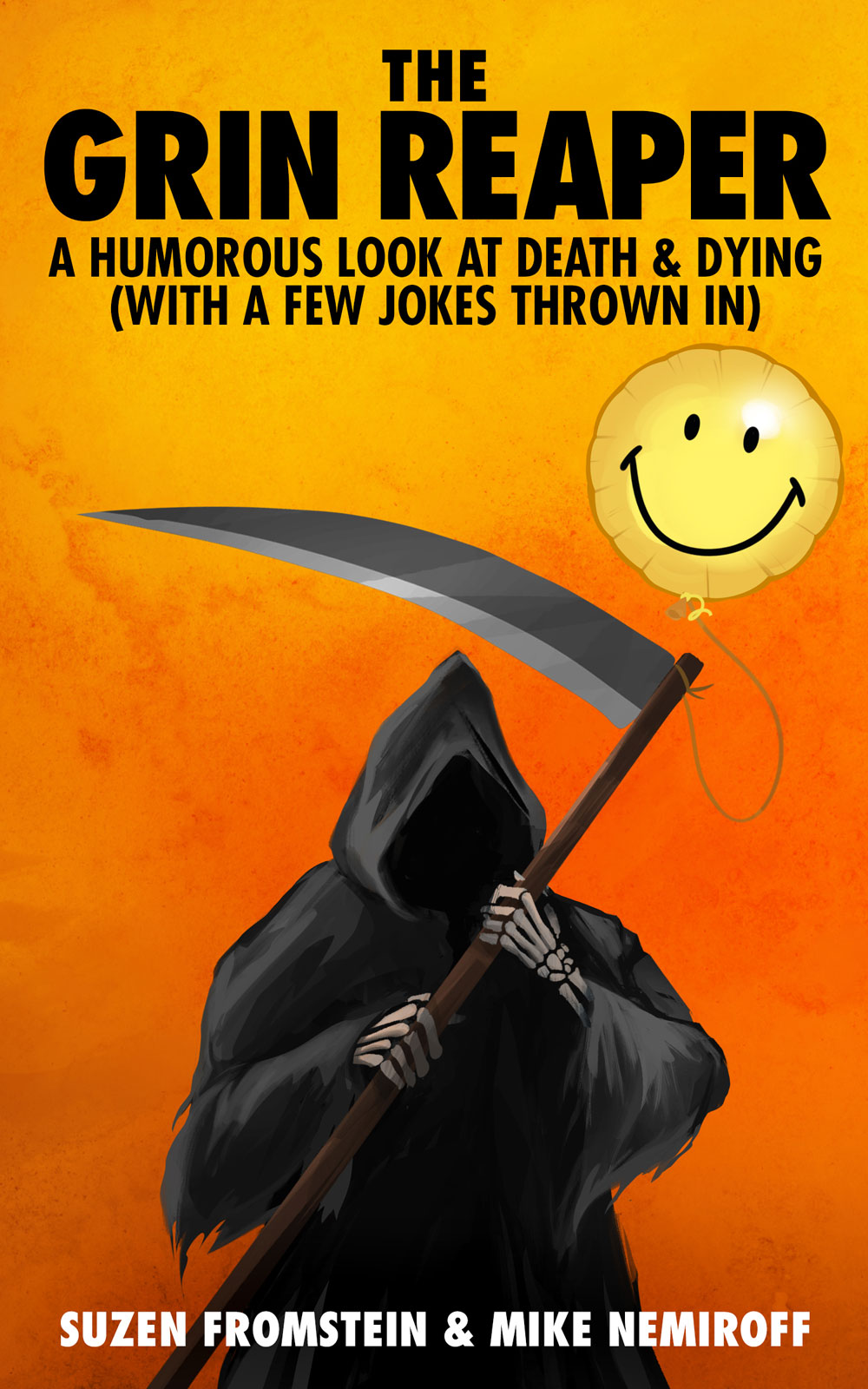 The Grin Reaper – A Humorous Look at Death & Dying (with a few jokes thrown in) co-authored with stand-up comic/musician Mike Nemiroff. The Grin Reaper is available on Kindle and through Smashwords for all other e-platforms including Kobo, Apple, Sony and Barnes & Noble. There is also a Print on Demand Option from Amazon.
PUTTING THE "FUN" BACK IN FUNERAL
Fun loving co-authors and first cousins Suzen Fromstein and Mike Nemiroff are known for their tenacity and "never say die" attitudes (except when the Toronto Maple Leafs play).
Our subject is death, in its various shapes and complexions, from somberly scary to facetiously funny.
The Grin Reaper shines a light on hundreds of thrilling topics like yellow fever, recreational cannibalism, answers to cancers, and many other morbid morsels so ghoulishly delightful you'll want to taste them all before they taste you.
"When we can laugh at diseases like cancer, Alzheimer's and AIDS, conditions like sepsis and anorexia, natural disasters and even murder, the concepts are less threatening and easier to contemplate - unless you happen to be one of the victims," Fromstein says.
Buyer Beware
"If you hate comedy, are easily offended or think it is unseemly to laugh at death and disease, don't buy the book! But, before you turn and run, consider this. Where else are you going to gain some insight, some solace, even some laughs, from confronting this one inevitable fact of life?"
The Reaper
---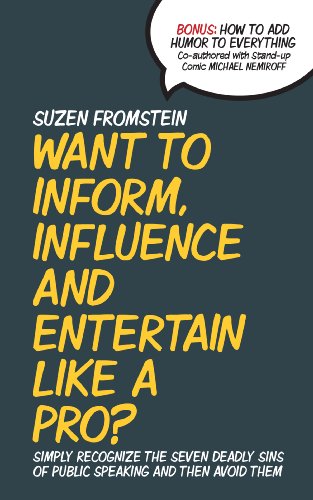 Want to Inform, Influence & Entertain Like a Pro? Simply Recognize the Seven Deadly Sins of Public Speaking & Then Avoid Them (includes a special section co-authored with stand-up comic/musician Mike Nemiroff on how to add humor to everything), is available on Kindle and through Smashwords for all other e-platforms including Kobo, Apple, Sony, B&N etc. There is also a Print on Demand option.
WANT TO INFORM INFLUENCE AND ENTERTAIN LIKE A PRO? summarizes Fromstein's experience as an executive speechwriter, college professor, competitive Toastmaster and a business workshop facilitator. This easy-to-follow, practical guide is designed to help you:
Engage upper management long enough for them to warm to the merits of your process innovation or cost saving idea.
Avoid suffocating the audience's interest with inane, lackluster loquaciousness.
Have the last word in an argument about who comes first in your office relationships (don't try this at home).
BONUS MATERIAL: HOW TO ADD HUMOR TO EVERYTHING
Fromstein co-authored this section of the book with stand-up comic Michael Nemiroff. Fromstein and Nemiroff show you how to use humor appropriately to engage your business audience. In addition to many examples sprinkled throughout the text, there are a number of actual speech scripts in the Putting Theory Into Practice section.